Lucibel, much more than light

LUCIBEL is an innovative French group that designs and manufactures new-generation lighting products and solutions in France based on LED
technology. LED technology is cost efficient, sustainable and smart. It is transforming the worldwide lighting market and it is now part of the
digital era. Not only are Lucibel lighting solutions compatible with remote management systems. Light can now interact with its surroundings
and be controlled and adjusted in real time to achieve optimized energy consumption. But it also allows light to be used as a new medium
for data transmission, interactions and well-being thanks to the development by Lucibel of innovative and smart solutions.These solutions
are the «LiFi by Lucibel», a light-based Internet access solution, the «VLC by Lucibel», a light-based geolocation and interactions solution,
the «Cronos, light for well-being» solution and the LuciConnect solution.
Discover Lucibel DNA : the vision, the innovations and the French production !

Cronos, Lighting to enhance well-being
Lucibel has designed an innovative lighting solution allowing the synchronization of circadian rhythm by simulating sunlight and its impact
on the body. Cronos lighting varies in intensity and color temperature, determined by a programmed daily scenario, ensuring an optimal
visual comfort at all times. This scenario was defined in collaboration with a team of neurobiologists and doctors, it is reproducing the natural
light cycle on a 8 to 10 hours, depending on the customer needs. In order to validate the benefits of the Cronos technology, Lucibel tested it
within a clinical study. The study has been conducted by a medical team during 28 days on 70 employees from Nexity group. The results are
impressing : under Cronos lighting, 75% of the participants have seen their performances improve, their drowsiness reduce and had a better
quality sleep.
What are the advantages ?
To go a step further… download the document:
LiFi, Light-based internet access
Lucibel has developed the very-first lighting fixture equipped with LiFi (Light Fidelity) technology, which provides LED light-based Internet
access. LiFi is a technology that allows communication through modulated LED light. A special LED lighting exchanges data with a computer,
thereby making Internet access possible. The two-way broadband data transfer is active within the light beam only. This system guarantees
total data transmission protection. LiFi provides a great alternative to WiFi in areas where the exchange of information must be secured.
What are the advantages ?
To go a step further… download the document:

VLC, Geocontextualization technology
Lucibel has developed a state of the art technology for light-based interaction and geolocation. The light-modulation technology used can
be detected by the cameras of recent mobile devices (smartphones and tablets). This new Optical Camera Communication(OCC) technology
is compatible with most mobile operating systems (iOS and Android). It allows to send precise and contextualized information to a device.
Answering to a large number of uses cases, it serves several purposes and can be implemented in retail outlets, offices, manufacturing units,
transportation and cultural places.
What are the advantages ?
To go a step further… download the document:
Sales support tool
Information, discount, devices…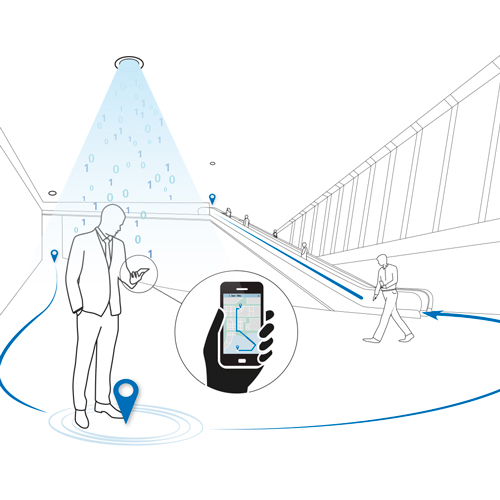 Sales support tool
Information, discount, devices…
Sales support tool
Information, discount, devices…
For many years, the Lucibel group has developed revelant solutions in the areas of lighting and the management of services equipment.
LuciConnect is designing, producing, testing and delivering the electricity part of your tertiary projects. Thanks to our partnership with the
Schneider Electric company, leader on the general electricity market, we make you benefit from the newest technologies in the area of
connected equipment, and more specifically the energy management. Your equipment are mocked-up, tested and documented in our factory
of Barentin (Normandy) before being sent on your work site.
LuciConnect is allowing you to access the electricity market of the 21st century. Give to your customers the control of lighting, heating,
ventilation, air conditioning and blind in compliance with the 2012 Thermal Regulations (2012TR). All of this without increasing your
workforce and your general costs, thanks to LuciConnect which is offering you a complete solution ready to use.
What are the advantages ?
To go a step further… download the document:
French specialist in LED lighting, Lucibel designs, manufactures and markets to professional clients new generation lighting products and
solutions based on LED technology. Its manufacturing plant located in Barentin (Normandie) allows Lucibel to offer high quality products and
respond more effectively to its clients' expectations.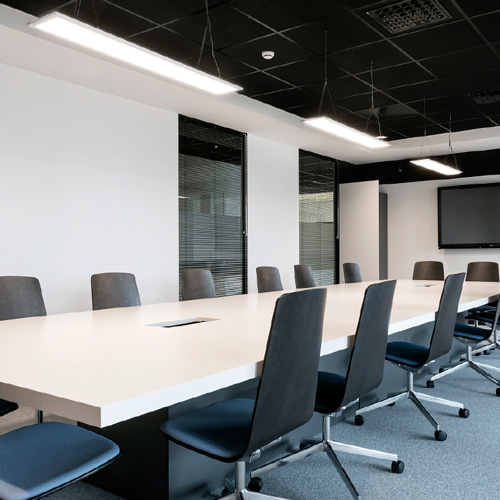 MUSEUMS / LUXURY BOUTIQUES
Lucibel is a French group made up of several trades to offer you innovative lighting solutions in various fields.
Lucibel brings together 7 entities and brands operating in various markets.
Museography and luxury boutiques

Lucibel, through its Procédés Hallier subsidiary, is present on the
museography and luxury boutique market. The sector has been
conquered by these high performance LED projectors, designed
and manufactured exclusively in France, with 9 out of 10 French
museums equipped.

Tertiary / Industry

Lucibel, thanks to its professional brand Lucibel Pro, supplies
luminaires intended for the tertiary sector and industry. Designed
and manufactured in our Barentin site, the lights are produced
to be efficient, durable, easy to install and of high quality.

Tertiary furniture

Lucibel is also present in the tertiary sector thanks to its Confidence
and Light brand. Our products are recognized today for their
sleek design, their constantly optimized energy consumption,
and their Infralum wireless communication technology which
maximizes visual comfort for all.

Turnkey tertiary projects

LuciConnect designs, manufactures, tests and delivers ready-touse
electricity batches specially designed for tertiary projects.
The equipment is modeled, tested, validated and documented
before being sent to the LED renovation site. LuciConnect works
on the whole building to offer a turnkey project.

Shops

Lucibel Retail, a French expert in retail lighting, is a team
dedicated to local shops and large accounts, which advises
you on the lighting and scripting of your points of sale. Attract
the customer, highlight the products, animate the sales areas,
create atmospheres conducive to the act of purchase … well
designed, the lighting acts on the perception of the customer
and influences his decision to purchase. The use of LED lighting
and a dynamic atmosphere increases the average basket by 5 to
40% and significantly improves the customer conversion rate.

Large scale stores

Lorenz Light Technic, a Lucibel subsidiary, offers lighting
solutions specially designed for the retail sector. From unique and
innovative lighting concepts, Lorenz Light Technic offers you high
performance lighting solutions, with advanced technologies, for
an exceptional rendering of places.

Cosmetic

Lucibel operates in the cosmetics market with its subsidiary Line 5.
After revolutionizing lighting, LEDs are attacking cosmetics. Using
the photobiomodulation method by red LED light, recognized by
experts, the Line 5 range is an effective and painless solution for
the treatment of skin aging, stretch marks, orange peel and scalp.
LUCIBEL SA
HEADQUARTERS AND FACTORY
101, allée des Vergers
Parc d'Activités du Hoquet
76360 Barentin – France
Tél. +33(0)1 80 04 12 31
PROCEDES HALLIER
69 rue Victor Hugo
93100 Montreuil – France
Tél. +33 (0)1 48 51 79 88
www.procedeshallier.fr
LORENZ LIGHT TECHNIC
7 A Rue Ampère
67120 Duttlenheim – France
Tél. +33 (0)3 88 95 86 80
www.lorenz-light-technic.com
LUCIBEL AFRICA
22 rue Charam Acheikh
Quartier Palmier
20120 Casablanca – Maroc
contact@lucibel.ma
LUCIBEL MIDDLE-EAST
P.O. box 341407
Dubai Silicon Oasis
Suntech Tower Office 306
Dubai EAU
contact@lucibel.ae
Tel. +971 43 88 66 91
LUCIBEL SWITZERLAND
fabienne.bouharcha@lucibel.com
Tél. +33 (0)6 23 48 83 38
LUCIBEL IBERIA
(Spain, Portugal, Italy)
yannick.lechaux@lucibel.com
Tél. +33 (0)6 35 48 67 98